Grote plaat vulkaniserende persmachine / PLC controle
De plaat vulkaniseren pers voorzien van een programmeerbare besturing PLC, welke druk, temperatuur, tijd, vermoeiend frequentie en het aantal seconden met mens-machine interface besturingssysteem kan instellen. D it grote vulcaniseren persmachine geldt voor de compressie en gieten van rubber, kunststoffen, harsen en andere polymere materialen.
parameters:
Capacity

200T

Temperature range

Normal temperature ~ 300 ℃

Pressing plate size

300 X 300/350 X 350/400 X 400/450 X 450/500 X 500/

550 X 550 mm

Distance of pressing plate

100 mm

Exhausting frequency

0 ~ 10 times can be set

Oil pressure medium

Mobil 32# antfreeze hydraulic oil

Power supply

3 ∮, five lines
Specificatie:
1.Controller: PLC programmeerbare kleuren aanraakscherm heeft mens-machine interface. Alle bedieningsparameter kan naar wens worden ingesteld en gecontroleerd. Mould druk proces- en vulkanisatiecurve kan worden weergegeven dynamisch.
2.Heating methode: Electro-thermische controle
3.Cooling werkwijze: koelen Kraanwater
4.Working lagen: twee lagen. De bovenste stekplaat verwarmen, de onderste stempelplaatkoeling.
5.Oil druk systeem: De regelinrichting systeem proportie hydraulische stroomklep met de functies van de automatische compensatie en tijdvertraging stoppen van de brandstoftank.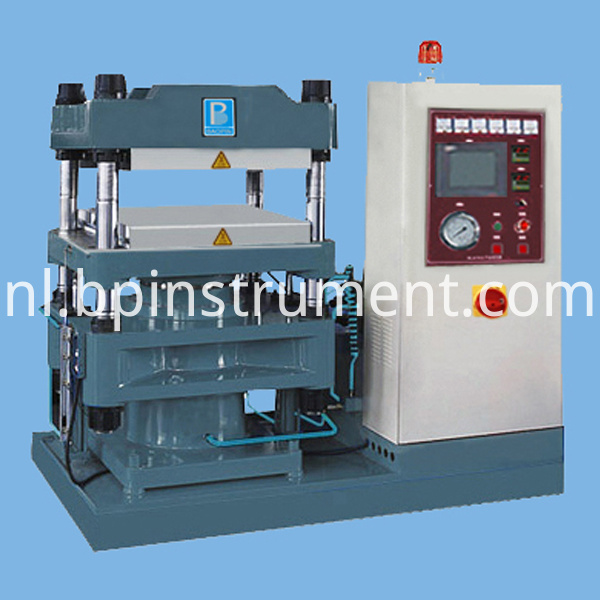 Product Categorie : Lab Tablet Press Series