Lab interne mixer / PLC controle
Deze PLC lab inwendige menger is uitgerust met PLC programmeerbaar kleuren touchscreen, human-machine interface besturingssysteem. Temperatuur, tijd en koppel kan onmiddellijk te tonen. Het mengproces wordt automatisch ingevuld, eenvoudig en toepasbaar met energie-efficiëntie.
PLC laboratorium interne mengmachine wordt hoofdzakelijk gebruikt voor het mengen van gemengde kunststoffen en industriële chemicaliën, en ook voor het mengen van alle soorten materialen met lage viscositeit. Het is nauwkeurig om de temperatuur gelijkmatig te verdelen, eenvoudig en praktisch, geschikt voor labformuleringsontwikkeling en kleine productie.
parameters:
Mixing chamber volume

1L/3L/5L ( optional )

Rotation angle

110°

Rotor speed ratio

1 : 1.27

Temperature range

RT ~ 260 ℃

Main motor

2.2 KW ~ 5.5 KW

Air source pressure
0.5 ~ 0.8 Mpa

Power supply

3

∮, 5 lines
Specificatie:
1. Tank Werkwijze: Rotatie
2. Rotor snelheid: 0-50 rpm frequentieregeling
3. Rotor Type: Roller / Banbury (optioneel)

4. Verwarmingsmethode: elektro-thermische controle
5. Controller: PLC programma controlesysteem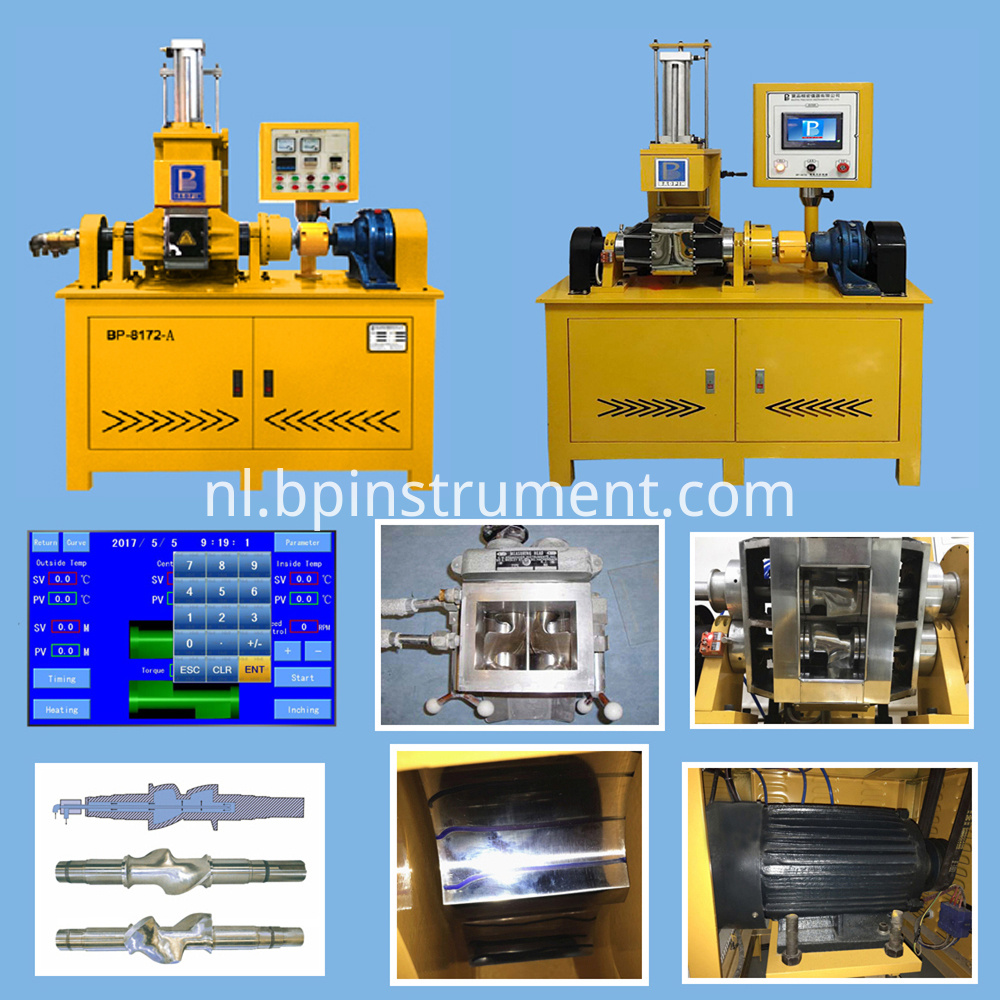 Kenmerken
■ Drie zijden van de mengkamer zijn onafhankelijk met mezzanine verwarming of verbinding waterkoeling pijpen aan de procesvereisten van elke frezen en verfijnd kunststoffen.
■ De oppervlakken van de mengkamer in contact gebracht met het materiaal aanneming hoge corrosiebestendigheid en hoge slijtvast materiaal. Bij de verwerking van hoge frequentie, carburisatie, verharding en tempering, verchroomd en polijsten wordt het hard en duurzaam, moeilijk te dragen.
■ Sterke pneumatische vlamboogdruk heuvel is gekoppeld met het uiteinde van mengkamer. Deze kamer is van goede afdichtingseigenschappen en het mengen kan dicht bij de echte werkomgeving liggen.
■ De snelheid motoraandrijving hoog koppel trekken een ovale mengas met twee vleugels convexe randen hellingshoek. De hoeken worden ontwricht met een tegengestelde sterkte roterend en scheren, uitstekend mengend effect en efficiënte prestaties, waardoor de plasticisatiecyclus aanzienlijk verkort wordt.
■ Het elektronische controlesysteem hanteert apparaten met authentieke merken. De alle digitale instrumenten kunnen alle mengparameters instellen en weergeven. Het circuit rantsoenering is in overeenstemming met CE of hogere normen met koppelingsactie zelfbeheersende beveiligingsfunctie en uitgebreide applicatie, veilig en betrouwbaar.
Product Categorie : Lab Interne Mixer Series