Single screw exturder / Equipment control
Het laboratorium enkelschroefs extr ude r kan worden gebruikt voor het mengen en spuiten van engineering plastics, bewerkt kunststof en masterbatch. Het is vooral geschikt voor het aanleren en onderzoek en ontwikkeling, kleinschalige productie van kleine buizen, profielen, film of vel.

De apparatuur controle enkele schroef extruder is uitgerust met high-precision digitale LED-display. Het kan gebruikt worden in het laboratorium testen, kwaliteitscontrole, onderwijs onderzoek, nieuw product voor onderzoek en ontwikkeling, enz.
parameters:
| | |
| --- | --- |
| Screw diameter | 16, 20, 25, 30 ( optional ) |
| Rotation speed | 0 - 95 rpm frequency control |
| Length ratio | 1:25, other length ratios ( 10 to 30 times ) are optional |
| Power supply | 3 ∮ , 50HZ, 5 line |
Specificatie:
1. Elektrisch systeem: PID / LED / RKC intelligente digitale vertoningstemperatuur precisie intelligente digitale instrumentbesturing en weergave van alle procesparameters, zoals temperatuur, aandrijving, druk gezamenlijk zeggenschap vergrendelingsfunctie.
2. Verwarming Zo ne: Mica verwarmer in 3 gebieden laden vat, verwarming in 2 delen van handstuk. Elk gebied heeft een koper koelvinnen bedekt met beveiliging windscherm.
3. Koelinrichting: Drie groepen van multi-wing fans om de lucht stil en sterk te koelen.
4. Driving moto r: motorische precisie tandwielreductie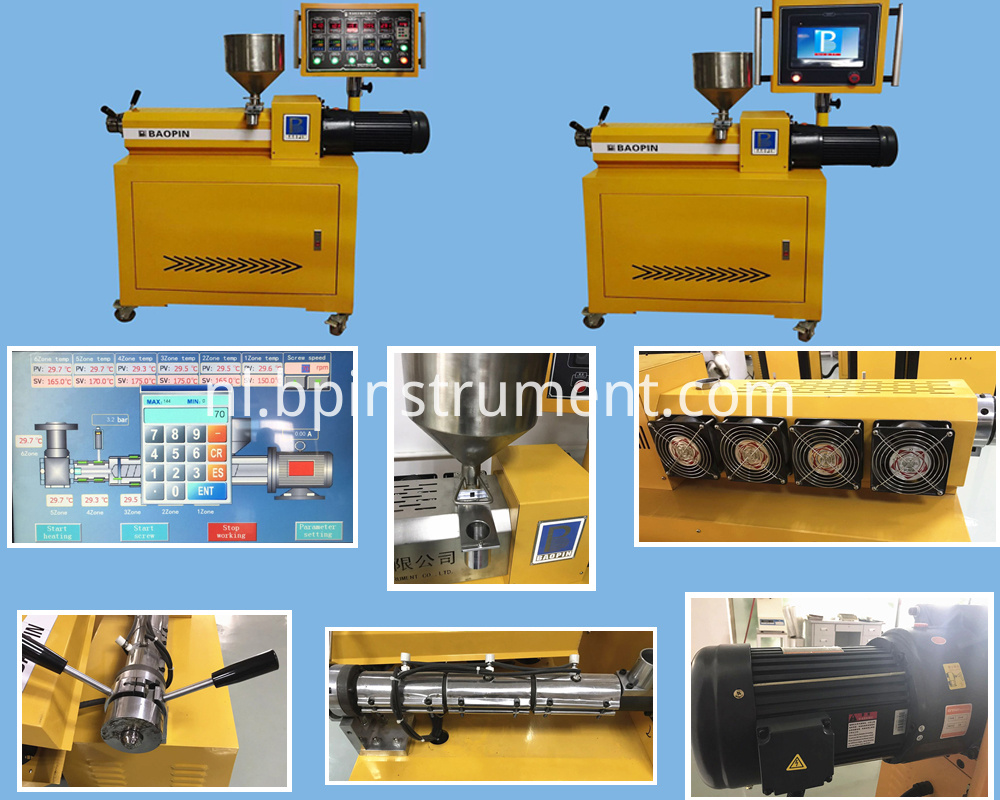 Kenmerken
■ De diameter van de schroef is 20, 25, 30 (optioneel). Lengteverhouding is 10 tot 30 keer zijn optioneel. Zo verruimt het de reikwijdte van diverse materialen.
■ Schroef en vat zijn gemaakt van 38CrMoAl chroom-molybdeen staal. De oppervlaktelaag verwerking temperen, nitreren, verchromen en extreem fijn slijpen. Ze zijn dus hard en slijtvast, zeer corrosiebestendig.
■ Schroef met een voedingszone, transportsegment, compressiezone en de mengkop. Het kan een verscheidenheid aan materialen verwerken om het beste dispersie effect te verkrijgen.
■ 0-80rpm schroefsnelheid traploze frequentie controle om te voldoen aan de eisen van verschillende materialen extrusie proces.
■ Vaatverwarming met elektrische spoiler, makkelijk onderhoud, makkelijk te installeren, 5-zone verwarming kan er zeker van zijn dat de temperatuur nodig is. Barrel keurt 3 multi-vleugelgroepen statisch gedwongen koelventilator, elektrische verwarming en windkoeling geïntegreerde indeling, hedgebalans van warm en koud om effectieve constante temperatuur te waarborgen.
■ Matrijs met snelle verbindingslap, snelle demontagehoofd, makkelijke aansluiting op stroomafwaartse apparatuur en snel testen.
■ Opties voor afleidingsplaat en het filtermasker om ongemaste deeltjes en onzuiverheden te voorkomen en de smeltdruk te verhogen om de kwaliteit van het plasticiseren te waarborgen.
Product Categorie : Lab Extruder Series