Lab film blaasmachine / PLC controle
Extrusiefilm blazen betrekking op het technologisch proces dat het dubbel gevouwen kunststoffolie door perslucht hijgen, vane koelen frequentieomzetting tractie en de kunststofsmelt wordt geëxtrudeerd door matrijzen bij een bepaalde temperatuur en bepaalde snijkracht.
De film blaasmachine bestond uit enkelschroefs extruder en filmblazen toren wordt hoofdzakelijk gebruikt voor het testen blaasextrusie haalbaarheid van polymere materialen en de colloïdale toestand in het materiaal.
parameters:
1. Enige schroefextruder
| | |
| --- | --- |
| Screw diameter | Φ 20 |
| Length diameter ratio | 1:28 |
| Screw speed | 0 - 95 rpm frequency control |
Schroef / Feeding barrel materia l:
38CrMoAl chroom-molybdeen staal. Met de oppervlakte-laagverwerking van het temperen, nitreren, chromen, polijsten en super-precisie slijpen, de hardheid HRC55 ~ 60, ruwheid Ra <0,4μm, nitridingdiepte≥0.6mm.
Elektrisch controlesysteem:
PLC programmeerbare kleuren aanraakscherm, man-machine interface bediening systeem, kan dynamisch display en monitor extrusie proces, met inbegrip van temperatuur controle, rijden, druk, interlocking verspreidingsfunctie.
2. Filmblazen tower
| | |
| --- | --- |
| Diameter of dies | Φ 30 |
| Driving rolling speed | 0- 5 m/min adjustable |
| Maximum folded diameter of the film | 150 mm |
| Servo motor | 90 W |
| Fan | 0.25 KW |
| Rolling torque motor | 3.5 N.m |
| Illuminating case | LED light |
Hijgend lucht:
Gecomprimeerde lucht 0 -6 bar, kan goed worden aangepast en gestabiliseerd.
Cooling lucht:
Blower flow 30 L / min, kan goed worden aangepast en gestabiliseerd.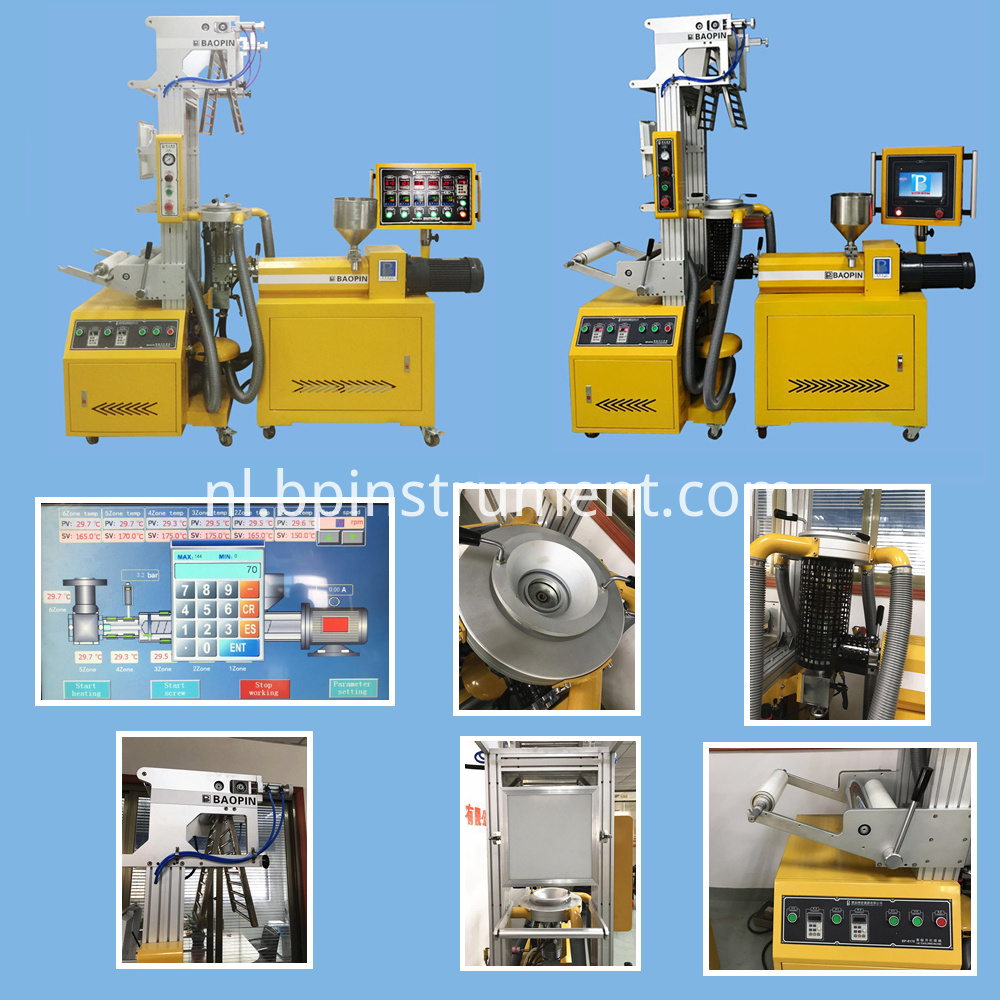 Kenmerken
■ Deze machine heeft een compact design en een klein lichaam, niet te veel bezetten binnenruimte.
■ De gastheer en hulpapparaten zijn gemakkelijke assemblage met weinig uitgangsmateriaal. De maximale gevouwen diameter van de dunne film kan 200mm bereiken.
■ Deze machine is uitgerust met de C-type snel veranderende Handstuk voor een eenvoudige bediening en tijd en arbeidsbesparende test.
■ Enkellaags of dubbellaags koeling schoep en de gesloten -loop bestrijding van kreuken breedte betrouwbare productkwaliteit.
■ De spiraalvormige omloop film blazen sterven van high performance is gemakkelijk te reinigen en te onderhouden.
■ De hoogte van het filmen klap toren kan willekeurig worden aangepast aan de keuringseisen voldoen.
■ De extrusie, walsen tractie en de eigenschap stepless snelheid regelen, waardoor vereisten film blaastechnologie worden voldaan.
Product Categorie : Lab Extruder Series